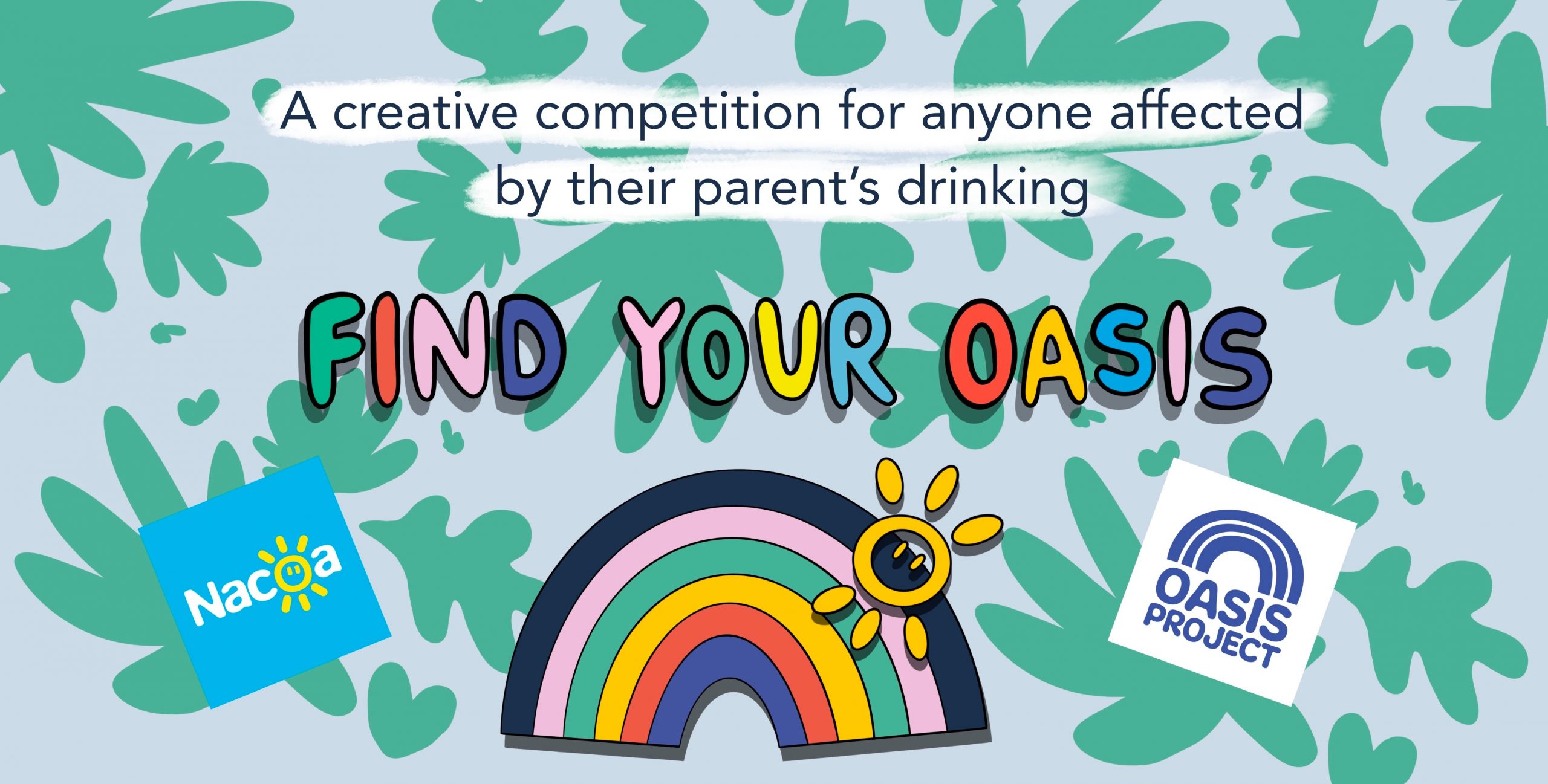 SUBMISSIONS FOR OUR COMPEITION ARE NOW CLOSED. HOWEVER YOU CAN STILL SUBMIT YOUR ENTRIES TO BE INCLUDED WITHIN OUR FIND YOUR OASIS BOOK. 
HERES HOW TO ENTER –
If you have been affected by your parents drinking and would like to share any thoughts or feelings on your experience, please submit an entry to our book.
Many children of alcoholics feel alone in their experience, so Oasis have teamed up with Nacoa to give a voice to those affected. We would love you to share your experience of being a COA if you feel comfortable, no matter how big or small. It could be anything from the way you feel about your parent now, to something that helped you cope or is still helping you to manage your feelings.
Here's what we'd like you to do:
Submit a high resolution image or document as follows (limit of 2 entries per person):
a short story of less than 500 words
a poem
a song
a piece of art – with brief description or quote
Please also fill in this Consent form and sent it via email or post along with any high resolution images or documents you wish to submit.
You can send your entry and your completed consent form to us via
Email: ceri.walker@oasisproject.org.uk
or
Post: Laura Ward, Find Your Oasis book, 11 Richmond Place, Brighton, BN2 9NA.
(Please ensure postal submissions are sent by registered post, unfortunately we may not be able to return these.)
If you are under 18 please ensure your parent/carer signs the parental consent section of the form or you can enter anonymously. Please also consider if you would like your submission to be anonymous. We know it is a difficult subject to talk about and we want you to be comfortable with how much you share.
If you have any questions please email ceri.walker@oasisproject.org.uk
Closing date: 11th July
Judging:
The competition organisers will select a shortlist of 10 entries for each category which will be exhibited at the gallery.
The judges will then decide a 1st, 2nd and 3rd prize for both 18+  and 12-18 years. The top 3 will be invited to the launch event.
Prizes:
The top 3 in each category will receive prizes (more details to follow shortly).
Exhibition:
Selected entries will be exhibited at Brighton Fishing Quarter Gallery 12th – 17th August and invited to a launch event on 12th August, 6-8pm.
Our Competition Judges
Here's an example from Ceri Walker, an Oasis staff member with lived experience
The Glimpse I had of you – Ceri Walker
It's all too easy to look back on the chaos of my childhood with anger and sadness but now I understand addiction better, so now…..
I just want to say thank you Mum
Thank you for the four years you gave me before alcohol crept in, thank you for carrying me, for keeping me safe inside you, for feeding me milk for my first year, sounds to me like we once had a wonderful bond.
Thank you for waiting for me at the school gates on the days you could get there, you never knew the excitement I felt when I saw you as I peeped round the door, it wasn't very often, sometimes weeks or months went by, but I want you know I just loved it, I still remember your blue hoody, it was so cosy to snuggle into,
Thank you for being so brave when you knew it had all got too much, it must have been hard to let me go, but in your own way you made sure I was safe. Sometimes it just wasn't right for me to be with you, and Grandad did a great job, he wasn't you though, and I secretly cried too most days,
Thank you for trying again and again, repeatedly to stay sober, you were so strong to do it, and the side effects of that were the most painful to watch! You were a warrior in those times, and I was with you, holding your hand through the chaos that ensued…you even once said out loud that you knew there was a problem, I can't imagine how hard that must have been!
Thank you for the ridiculous chats, we talked about anything, there was no slurring, you didn't judge, you cared, I know you did deep down, and that's taken me 15 years to say, but I get it now and do you know why?
Because I'm recreating those magical glimpses of you with my babies, those tiny special moments are running through me, and as much as you have broken me, and made me worry of the Mum I am, I also love the Mum I am becoming because of you!
I laugh until I cry with them, I'm ridiculously silly with them, I get on their level sometimes so there is no parent and child, just a stream of magic that we're all part of, and that's from you, and I know once you felt it too,
I know we started with a bond, a strong attachment, because if not why can't I think of the grandparent you'd be without my chest aching, literally a breath taking physical pain?
I will always try to separate my memories of you from the drink, and remember the sober times, however small they were, and I'll tell them about the real you, just my Mum,
Tomorrow I may feel different, no two days are the same, but today I just want to thank you…..