Oasis Project invites you to…..
Making Your Passion Your Business
An International Women's Day-Inspired Brunch Fundraiser
Thursday 12 March
10.30am – 1pm
Hotel Du Vin Brighton
Tickets £25
Our third annual International Women's Day-inspired brunch fundraiser, this year at Hotel Du Vin's 'The Dome' dining space.
Last year's event saw some of Brighton and Sussex's most dynamic movers & shakers enjoying a delicious brunch whilst engaging with the lively panel discussion between the region's leading female business entrepreneurs.
This year promises to be every bit as inspiring and invigorating. Come along to learn from our panel, do some friendly networking and learn more about the work of Oasis.
All proceeds go to Oasis Project supporting women, children and families affected by substance misuse.
Tickets £25 which includes a delicious Hotel Du Vin brunch
Our Panel includes…
Charlotte Vincent, Artistic Director/CEO of Vincent Dance Theatre 
The Guardian calls Charlotte "one of the most important feminist artists working in Britain today"
Georgina Davis, Founder of Brighton Stylist
George says "style is about investing in ourselves, putting ourselves first and finding joy in celebrating who we really are"
Ruby Egau, Founder, Frank Greene Band/Co-Director of DiTR Brighton & Are-d-r
Ruby's audiences say she "lights up the stage whenever she performs"
Deborah Kalinke, Co-Founder, Brighton Garden House
Gardening expert Carol Kleini says "Brighton Garden House inspires and entrances, it's full of energy and life, it's irresistible."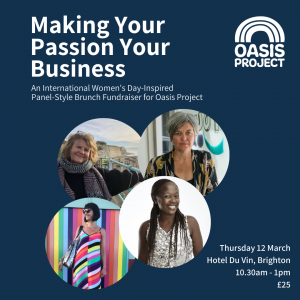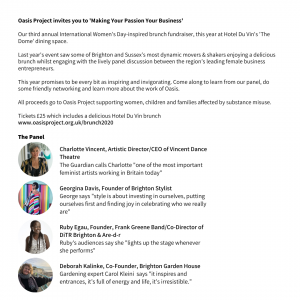 More about our Panel
Charlotte Vincent
'One of the most important feminist artists working in Britain today. Contemporary dance fans should beat a path to her door' The Observer.
Charlotte formed Vincent Dance Theatre (VDT) in 1994 and has directed all the company's work to date. Vincent Dance Theatre (VDT) produce powerful and engaging dance theatre work accompanied by extensive programmes of social engagement and professional development work. VDT is an international, intergenerational ensemble devising collaborative, interdisciplinary performance work on stage, on film and online. Under Charlotte's leadership, VDT allies the collaborative approach in the studio to the ethos and structure of the company, campaigning relentlessly for gender equality and providing supportive conditions for parents to return to work. Charlotte has a distinctive voice acts as a mentor, facilitator, provocateur and catalyst for critical debate and social change.  She regularly teaches choreography, devising and composition at Universities across the UK and directs independent artists' work. Charlotte sat on the Artists Advisory Group at Yorkshire Dance for 4 years and Steering Group for Dance UK's National Choreographic Conference in 2013 and 2016. She completed a Clore Leadership Short Course (2010), the Clore Programme for CEO/Artistic Directors (2011) and Clore Brave Conversations Programme (2013). VDT is  one of 600 National Portfolio Organisation, funded by Arts Council England and Associate Company at Brighton Dome and Festival. Vincent is currently a Dream Artist at Pavillion Dance South West. VDT was nominated for Best Independent Company at the National Dance Awards in 2016.
Georgina Davies
Georgina Davis, Founder of Brighton Stylist, is a mum of two living in Brighton. She works work with women and men to help them feel more confident with their style choices.  George studied at London College of fashion and has worked as Senior Stylist for accessory brand Stella & Dot and Buyer for an online Japanese fashion store. Since establishing Brighton Stylist, George has been featured on Style Blogger Susie Bubble's style Pages. George believes that if we feel good in what we wear it translates to having better experiences day to day through increased confidence and better interaction with others. George is passionate about personal development and is trained in counselling and NLP which she uses in her other role, running a service for high risk offenders. For George, style is so much more than just the clothes we choose and buy. She says "it's about investing in ourselves, putting ourselves first and finding joy in celebrating who we really are. The right wardrobe can be a huge catalyst for change." George's aim with Brighton Stylist is that her clients feel like the best versions of themselves and are excited about getting dressed at the start of each day.
Ruby Egau
South Coast Soul Revue's lead female singer Ruby Rose has been immersed in the world of music since her early years, playing various instruments and of course, singing. Her vocals originated in Jazz but she has branched out into Soul and Funk. In 2013 Ruby co-created her pride and joy, "Frank Greene Band". Their spicy sweet collaboration has brought fresh original tracks packed with infectious melodies, inescapable hooks and luscious harmonies to the UK neo soul scene. Known as "The Pocket Rocket", Ruby has a well-proven record of lighting up the stage whenever she performs. Ruby is also a highly respected session singer, lending her diverse vocal talents to many different types of music. Alongside her singing career, Ruby has Co-Founded two companies; DiTR (Diamonds in The Rough), an online music community celebrating Brighton & Hove artists and promotions company Are-d-r.
Deborah Kalinke
Deborah Kalinke and Bridge Saunders met through a shared love of horticulture, Bridge being Deborah's tutor when studying for the RHS certificate. They established the Garden House in 2009 in Bridgette's central Brighton garden, and the focus is on what they are passionate about: practical gardening, plants, garden design, crafts, food and travel. Their aim is offer informative and inspirational events, talks, courses, workshops and trips. The Garden House is a place of energy and inspiration that encourages sustainable living, and where people can learn, share information and be creative!